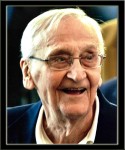 Obituary
George Peter Novotny, Sr., 97, passed away January 7, 2018 in The Villages, Florida. George was born in Toledo, Ohio to Frank and Julia (Bytosh) Novotny. On July 1, 1944, George married the love of his life, Ruth H. Kleman, at St. Agnes Catholic Church in Toledo.

On January 5, 1942, George enlisted in the United States Army Air Corps soon after the bombing of Pearl Harbor. After induction and flight training, he was assigned to the 325th Fighter Group, and on May 14, 1943 he left the states and spent the next 13 months in North Africa and Italy flying the P-40 Warhawk, the P-47 Thunderbolt and the P-51 Mustang.

His military career was filled with many achievements and accolades. He was a celebrated World War II P-47 Ace and known as "Toledo's War Ace" and participated in 57 missions. (To receive the title of "Ace", a fighter pilot must have shot down five or more enemy aircraft in "air-to-air" combat.) Throughout his time in the military, his plane number was always "27", which was the number he wore while playing football at Waite High School and DeSales College in Toledo.

Back then, pilots were allowed to name their planes and have "artwork" painted on the fuselage near the nose of the plane, commonly referred to as "Nose Art." In a letter to Ruth, his fiancé, he said he named his plane "Ruthless Ruthie" because he in a letter to his fiancé he wrote; You are not with me, so I am Ruth-less, and when I am in combat, I am Ruthless! Signed, your ever loving husband to be, George.

On or about December 28, 1943 George and his squadron escorted President Franklin D. Roosevelt and Prime Minister Winston Churchill to the Tehran Conference in Iran. The significance of this meeting was that a D-Day invasion was agreed upon by Roosevelt, Churchill and Stalin.

On January 30, 1944, George and his fellow 325th pilots shot down 37 enemy aircraft. George and three other pilots shot down 15 of the 37 enemy planes and he became an "Ace" with eight confirmed enemy planes shot down. (In the July, 2002 issue of "Aviation History" Magazine, a Historian and writer credited George with a ninth aerial victory over Budapest on April 13, 1944.) He also received an Air Medal with 14 oak leaf clusters. The squadron had a total of 37 victories for the day and earned a Presidential Unit Citation for their efforts and George earned the Distinguished Flying Cross that day, as well. The four pilots became known as the "Fearsome Foursome."

Shortly after that mission, the group became known as the "Checkertail Clan." Their planes were easily identified due to the tail of the planes being painted the yellow and black checkerboard pattern. "Axis Sally", the Nazi radio personality, who spewed propaganda broadcasts aimed at the American and British troops, gave them the name after the mission, Axis Sally saying "those Americans of the "Checkertail Clan" would meet certain death on their next mission". The 325th took that as a badge of honor and used this as additional motivation to fight on to victory in Europe. The 325th Fighter Group, even today is referred to as the "Checkertail Clan".

When George returned to the states, he was assigned to Oscoda Army Airfield in Oscoda, Michigan, where he became a flight instructor and taught the Free French Air Force fighter pilots combat techniques in P-47 aircraft until the war ended in 1945.

After he left the military he worked for Capital Airlines and then was hired to work with Trans World Airlines (TWA) in ground operations and was stationed in Detroit. He no longer flew but worked in the management part of the airline business. In 1982 he retired from TWA. He and Ruth raised their four beautiful children in the home they had built in 1952 in Allen Park, Michigan and when their children had left the nest, they began thinking about the next chapter of their book of life.

On May 29, 1994, George was awarded the "Medaille Du Jubile" (Medal of Celebration) at a D-Day +50 ceremony in Paris, France. This was given for the French Pilot training George had done in Oscoda, Michigan.

In 2003 George and Ruth packed up their "empty nest" and moved to Houghton Lake in Northern Michigan. They loved sitting in their living room and looking out at the wildlife in their back yard.

In 2007, George's war efforts were recognized with the Distinguished Morrison R. Waite High School Alumni award, of Toledo, Ohio.

Then on October 15, 2009, a beautiful fall day, George and Ruth along with their daughter, Mary and son-in-law, Tim decided to catch the fall colors and get fresh apples from a small orchard. After having a nice lunch, Ruth collapsed and passed away. George lost his wife of 65 years. In 2013, four years after Ruth's death, he moved to The Villages, Florida.

In 2015, The American Fighter Aces were awarded a Congressional Gold Medal in a ceremony at the U.S. Capitol in Washington D.C. George, along with 35 living Aces received their medals at this ceremony.

George is survived by four children; George, Jr. (Linda) Novotny of Valparaiso, Indiana, Mary (Timothy) Hughes of The Villages, Florida, Lawrence (Sandra) Novotny and Thomas Novotny of Allen Park, Michigan. Eight grandchildren: Sarah Novotny, Nathan (Haley) and Nicholas Novotny, Alan (Karen) Hughes, Eric Hughes, Andrew Novotny, David Novotny, and Amy Novotny. Four great-granddaughters; Emma, Sophia and Miriam Novotny and Valerie Hughes; his sister, Mrs. Margaret (Waldo) Silberg, sister-in-law, Mrs. Frank( Patsy Koschalk) Novotny and many nieces and nephews, including family in Cachtice, Slovakia.

George was preceded in death by his wife of 65 years; parents Frank and Julia (Bytosh) Novotny; daughter Nancy Marie Novotny and siblings/spouses; Joseph (Dorothy) Novotny. Albertus Novotny, Emily (George) Pfeilschifter, Vincent (Dodee) Novotny, Doris Novotny, Frank "Junior" Novotny and Waldo Silberg.

He will be sadly missed by family and friends.

In lieu of flowers, donations may be made to:

The American Fighter Aces Association, c/o Museum of Flight, 9404 East Marginal Way South, Seattle, WA, 98108. Checks should be made payable to AFAA in memory of George P. Novotny.
Or
Compassionate Care Hospice, 900 Main Street, Suite 208, The Villages, FL 32159, in memory of George P. Novotny.
Services
Visitation
Voran Funeral Home - Allen Park Chapel
5900 Allen Rd.
Allen Park
,
MI
48101
Rosary
Voran Funeral Home - Allen Park Chapel
5900 Allen Rd.
Allen Park
,
MI
48101
Service
St. Frances Cabrini Parish
9000 Laurence
Allen Park
,
MI
48101-1598
Instate at 9:30 AM
- Show more -
Burial
Great Lakes National Cemetery
4200 Belford Road
Holly
,
MI
48442